Found some beautiful flowers today during a quick shopping trip to Kroger. I was able to use a whole bouquet and split them up into 3 vases! And they were on clearance! Even better!
I am so ready for spring to get here! Judge and the boys cut down to privet hedges in the front of the house. They do it every few years so they will grow bigger and thicker. I cry everytime they do it and this time wasn't any different.
Spent the morning defrag'ing the desktop computer. Still working on it but I have to figure out why it is so slow! I installed a new security software that is given to us through our Cable provider. I have it on the laptop too. I think the most frustrating is the wireless mouse as it takes forever to get the cursor to move. On the list: buy a corded mouse. :)
After getting some morning things done and then grocery shopping we headed over to Judge's dad and sisters house to help them unpack some boxes. We just got home a short time ago. Great for bringing a stubborn set of blood sugars down. Plus, I scored by being able to hold my great nephew and rock him to sleep. I miss my babies so much, they grew up so fast!
Tomorrow will be our Sunday to cook for Family Dinner. We take turns and make the neatest things. Sometimes we have a taco bar, buffalo chicken soup, a meat and three or just sandwiches. It's always fun to see what's for dinner on Sundays! So tomorrow it is up to us...this is what I am thinking...Chicken pot pies made in muffin pans.
HERE
is the recipe. Looks impossibly simple! Now to figure out what to serve with them! Thinking maybe some mashed potatoes and possibly a french bread?? Emily said she wants to make brownies for tomorrow's get together.
On Monday we are playing catch up a little as our Friday was super packed. We are making a cell using jell-o. This is a picture I found online from
bing
. I tried to find the original poster. But this is basically how it will be set up for them. And we will discuss the shapes, sizes, names and functions of each part that they place in the cell (jell-o).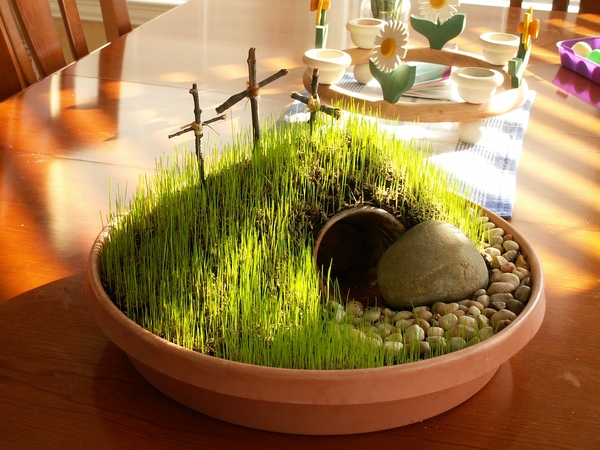 I am sure they will all enjoy eating everything. But I will have to watch out for the red stuff as Emily is allergic to red dye and her blood sugars would totally be whacked out!
Next on our list this week...will be to start our resurrection garden. Thank you to the
We Are That Family
blog that gave great step by step instructions! Thinking we will make one for our house and one for Grand daddy's house too! Since we will have Easter Sunday over there this year! I would like to make a short unit study on the resurrection of Christ and having this visual will help reinforce the story being told.
As I stated in the blog entry a few days ago...our piping is getting fixed this week. The 1-800 dig people came out Friday and cleared us for telephone and cable. Now we have to get cleared from Water and Electricity. Permit will be pulled this week and hoping everything will be finished before Friday!
If time allows us to, I would like to get a head start on our Easter eggs and be able to use them as decoration this year and not a rotting, smelly egg. We will be making our eggs with string and candy. Thanks to
Little Birdie Design
for the tutorial!
Other ideas to make:
even throughout all of our frustrations and trials we are facing this week due to medical/surgical complications we still have our eyes toward the sunrise and again at the sunset...praying for another day. We live each day in our lifestyle the best way we know how!
Spread the awareness! Spread Jesse's fundraising link. He is getting closer to his $2,000 goal. Currently he is the #2 fundraiser and our team is #1 in the friends/family category for the Tour de Cure. He is so excited to be riding this year in the Tour! New location, new routes, new jerseys, new socks and a new bike!!