So for the past month I have wanted to work on my Country Bloomers project! Can't find the chart ANYWHERE. I got to thinking...I wonder if it was put in the sell box that I took to the Used Book Store??
After fretting about this for awhile I had the opportunity to get to Nashville and take a look. Lo and Behold I heard the angels singing....Ahhhhhhhh! I found it. I know it was mine because I know the markings I had in the chart! So excited!!! Tomorrow afternoon after all of our Nashville appointments my hope is to be able to sit and stitch on this one! Can't let others in our group get ahead of me...yes I am competitive too!
On other notes.
I had my first finish of 2013. I am working on the 12 months of flowers by
Maurer-Stroh
...find the free patterns. They are in there. I am thinking of making them and finding someone to help me learn how to quilt and incorporate these pieces. I think it will look beauti-mus! I don't think it should be too hard. And who knows I may not ask anyone to help me and just do it myself! :)
This is the January Carnations.
Februrary pattern is Violets...really excited about this one as I really like purple and could never tire of using this color. The color is cornsilk and it is very lovely. Here are some progessions of how it is working out:
This is as far as I have gotten so far. Aren't the cornsilk "purples" beautiful. They are so close in hue but there are actually 3 different colors.
Tomorrow I hope to get some work on the "Country Bloomers" I am making some changes to the pattern however. The pattern has the Bloomers hanging out on a laundry line. Instead of the day of the week stitched above each bloomer I am going to place a member of our household's name above each one. And in the bench on the bottom right I am going to stitch "est. 1995" Thought this would give it a more personal touch. Here is what the chart looks like: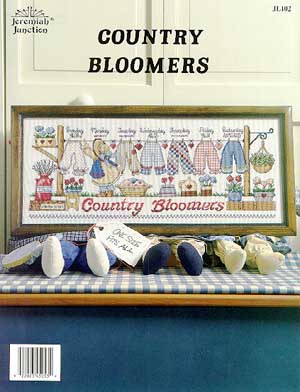 Happy Stitching this week everyone! Leave me a link to your blog in the comment section so I can peek in on what you are working on!